APNIC is active in the region and globally supporting the Internet community in a number of ways.
Community liaison
The APNIC Secretariat continues its efforts to improve the reach and effectiveness of its activities throughout the region through Community Liaison. Outreach activities are directed towards communities in developing economies and allows participation in events that may otherwise be unreachable. APNIC's involvement in these events have been highly appreciated.
APNIC achieves this through: APNIC Member Meeting fellowships, financial support, participating in regional technical forums to meet organizations and individuals, and Regional Liaison officers to work in specific areas of the region.
Outreach
APNIC actively supports and engages with professional communities of network operators, including Network Operator Groups (NOGs), by providing financial and logistical support in addition to participating in various regional conferences.
NOGs are informal forums that bring together network operators, network engineers and the like to discuss matters relating to routing, network security, peering and interconnection and other operational issues. While the forums are generally structured around sharing relevant technical information, they also provide training and other capacity development opportunities to the region's operators.
APNIC has ongoing commitments to various regional NOGs, participating and sharing information on key technologies affecting the Internet, for example, IPv6 deployment, and building capacity where relevant.
Current community projects
APNIC provides financial, technical, and informational support to the Internet community to promote the growth of the Internet, particularly in developing economies where financial and logistical barriers hinder the deployment of Internet services.
Through the ISIF grants program, APNIC supports local network development initiatives. Grants are provided on a competitive basis once a year.  The final amount is defined by the Steering Committee based on the maximum funds partners have committed for that year.
With the IPv6 Program, APNIC provides up-to-date  information about cutting edge technological developments and help with the transition to IPv6. And, with our root server support, Test Traffic Measurement node deployments, and statistical reporting, APNIC provides useful information and services to the entire Asia Pacific Internet community.
Official agreements
APNIC strives to forge official agreements with like-minded organizations to work together towards our shared goals of advancing Internet technology.
Supporting the community
APNIC also supports the community through: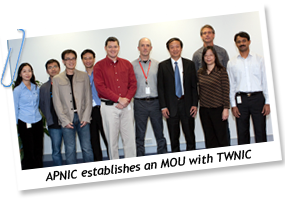 Collaboration
APNIC fosters relationships between the senior representatives of major ICT companies and organizations in the Asia Pacific. In doing so, we facilitate communication and collaboration between these entities, all the while encouraging cooperation in advancing Internet technology.
Training & education
Providing training on key technical issues is an important part of the services APNIC offers. Through collaboration with regional organizations, we have been able to offer training in diverse locations, including a number of developing economies throughout the Asia Pacific.
Encouraging participation through the 'Fellowship Program'
Helping developing economies to participate in the democratic process of policy development is one of APNIC's chief aims in acting as community liaison. To this end, APNIC offers fellowships to representatives from economies throughout the region that enable them to attend the APNIC meeting free of charge, as well as providing living expenses. The Fellowship Program not only gives a voice to these economies, but the fellows typically pass on the knowledge and skills they obtain through the program to their local colleagues, helping to keep all regions on a fair and level footing, regardless of their economic circumstances.
Information campaigns
APNIC conducts information campaigns, informing the community about issues, such as the depletion of the free pool of IPv4 addresses, the deployment of IPv6, and matters of Internet governance.