APNIC operates the ISIF Asia Secretariat, providing administrative support, facilitating the selection process, grantee reporting and dissemination strategy, fund raising, and program evaluation. APNIC is a founding partner of ISIF Asia, and has contributed around AUD 300,000 since the program started in 2008.
The Information Society Innovation Fund Asia (ISIF Asia) is a grants and awards program aimed at stimulating creative solutions to ICT development needs in the Asia Pacific region.
Funding support ranges from AUD 3000 to AUD 30,000 and focuses on advancing local and regional projects that introduce, improve, and apply Internet technology for the benefit of Asia Pacific users and communities. Developing communities in the Asia Pacific, which face unique and interrelated challenges, are perfect candidates to apply for ISIF Asia funding.
Two key issues that hinder Internet growth in the Asia Pacific region are the lack of access to technical skills and unreliable infrastructure. Encouraging local organizations to provide innovative and creative solutions to these problems supports local Internet development and the wider Internet community as well.
Organizations in developing economies are encouraged to apply for ISIF Asia funding to support projects that facilitate Internet growth and produce positive benefits in other communities facing similar challenges.
The Seed Alliance
Launched in March 2012, the Seed Alliance is a collaborative program established between the small grants and awards regional funds managed by AFRINIC, Lacnic, and APNIC (FIRE, FRIDA and ISIF Asia). Under the alliance, every regional program receives support for the allocation of small grants and awards in their region, while undertaking a variety of collaborative efforts such as evaluation, capacity building, and networking.
You can join the Seed Alliance as a contributing partner or sponsor global or regional activities, according to your interests. Please contact the seed-alliance@apnic.net for additional information.
APNIC invests in ISIF Asia
To give back to the Internet community by investing in ICT research and development
To support research that encourages Internet growth in our region
To facilitate networking and information building throughout the Internet community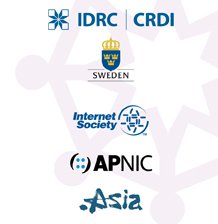 Partners & Sponsors
ISIF Asia is a joint initiative between the Canadian International Development Research Centre (IDRC), Swedish International Development Cooperation Agency (Sida), the Internet Society (ISOC), and the Asia Pacific Network Information Centre (APNIC).
ISIF is proudly sponsored by the DotAsia Organization, the registry operator for the .ASIA top level domain.