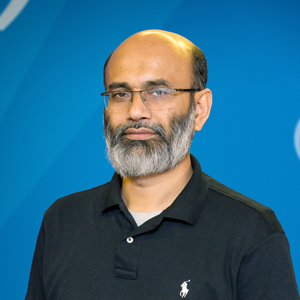 Sumon Ahmed Sabir
Position: Chief Technology Officer
Organization: Fibre@Home Limited
Serving until: March 2024


Sumon Ahmed Sabir has been involved in APNIC activity since 1998 and a regular attendee at APNIC conferences since 2005, serving as Policy SIG Chair from 2017-2020.
Sumon is Chief Technology Officer of Fiber@Home Limited, running one of the largest telecommunication transmission networks and Internet gateways in Bangladesh. Prior to joining Fibre@Home in 2012, he was Managing Director of BDCOM for five and a half years, and CTO at BDCOM for six years.
In addition to his duties at Fibre@Home, Sumon has continued to play an active role in the technical community in the region. He is a member of the Board of Trustees for the Bangladesh Internet Exchange Limited (BDIX), Bangladesh Network Operators Group (BDNOG), the Dhaka Chapter of ISOC Bangladesh, and is a Core Committee Member of the South Asian Network Operators Group (SANOG). Previously he was an office bearer of Internet Service Provider Association of Bangladesh (ISPAB) for more than a decade and was a member of the Internet Governance Forum's (IGF) Multistakeholder Advisory Group from 2016 to 2018.