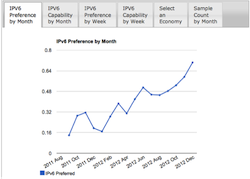 Current data from APNIC Labs show IPv6 deployment in absolute terms is still quite low across several layers. However, looking at the past 18 months, there is strong growth. There is now adequate information available for your region, economy, and network to benchmark IPv6 readiness.
This is a graph from APNIC Labs end user IPv6 accessibility measurements, showing the global average. Visit APNIC Labs and click on the map to see available data for your economy.
| | | |
| --- | --- | --- |
| | | IPv6 end user readiness data for geographical regions, economies, ASNs |
| | | Percentage of networks (ASNs) that announce IPv6 prefixes for a specified list of economies or groups. |
| | | This site captures historical and current data on IPv6 prefixes and their announcements, and IPv6 readiness on the web and mail, and DNS readiness by economy and number of organizations. |
| | | This site shows IPv6 readiness for web servers, mail servers, DNS name servers, NTP services, Jabber services, and email client access via IMAP or POP3. |
| | | This site shows the availability of IPv6 connectivity among Google users in the percentage of users that can access Google over IPv6. |
| | | This site shows consolidated metrics for IPv6 deployment sourced from various measurement sites at a global, regional, and economy level. |
| | | This site shows AAAA and IPv6 connectivity statistics from top websites (Alexa) from June 2009 to the present. The test was performed by banjo.employees.org (2001:1868:205::19, 198.137.202.19), which has native IPv6 connectivity. |
| | | This site shows various IPv6 readiness metrics, including Top Level Domains, registered domains with AAAA records, the top 100 Usenet Servers, networks running IPv6, rDNS nameservers running IPv6, and so forth. |
| | | Major ISPs, home networking equipment manufacturers, and content providers around the world have joined "World IPv6 Launch" effort since 2012. This site tracks different aspects of IPv6 deployment on the global Internet toanswer questions such as: which websites have enabled IPv6, how manyvisitors to a specific website are using IPv6, how many networks have significant IPv6 deployment, and how much traffic at an Internet exchange is using IPv6? |
This website contains links to other third party websites for which APNIC is not responsible, nor do we necessarily endorse the content expressed within them.